Dixie Stampede- Dolly Parton Guarantee's It!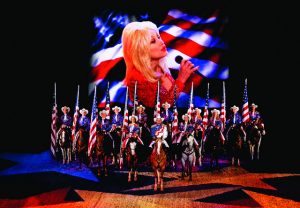 ***Picture courtesy of the Branson Chamber of Commerce
DIXIE STAMPEDE or Sticky Stampede as we refer to it in our house is definitely one of our family's favorite things to do in town. It is such a fun experience for all of us. The ticket prices are a little high but I can tell you that it's worth every penny (at least for our family). The atmosphere, the horses, the fun they create are all amazing to experience with your family THEN add the fabulous food, and the Dixie Stampede is a home run! One reason I love this show is because my kids love it… As a parent I love watching my kids with their attention locked onto what's going down on the arena floor, gazing in awe and wonderment. I'm convinced that makes the show even better. Now, adults and kids of all ages will enjoy this show as for about an hour and a half the fast-paced, Dixie Stampede takes you back in time to a beautiful southern plantation where charm, grace, beautiful belles and chivalrous gentlemen still reside. It's patriotic and makes me proud to be an American, I mean I literally cry every single time I see the finale! When Dolly starts singing about being Red and White and Blue and I tear up! I hope you'll experience that too! (Note that Dolly Parton is not actually there, but they do a great job with their multi-media production… you'd swear she's in the room with you) This show is always popular and pretty full so call early to make your reservations and request the best seats possible!
TICKET PICK-UP
When you pick up your tickets for Dixie Stampede you can either do it before the show/ pre-show begins OR you can pick them up ahead of time which I recommend. It eliminates waiting in box office lines prior to the show AND you can spend some quiet time looking at the horses before all the crowds show up…this is much more enjoyable and you can make a separate event out of it… And you can snap a few pics before the crowd photobombs you!
THE PRE-SHOW, THE ARENA, THE FOOD!
The pre-show starts 50 minutes prior to the arena doors opening. The pre-show is always family friendly, very entertaining and captures attention of the little ones. Then seating in the arena starts about 10-15 minutes before the show actually starts. Specific seats are not reserved but rather Section and Row, the crowd will just fill in the row, so if there is someone your wanting to sit by or another group your wanting to sit by it's easiest if you walk to the section and row with them otherwise people might sit in between you.
The show begins and it is non stop FUN! It's a winning combination of musical productions, beautiful horses and pageantry, trick riding and (IN MY OPINION) some of the best food you'll eat in Branson! It's a three course meal and they have doggie bags if you can't finish it. Also, the kids meal and the adult meal are the same size!!! No cutlery is given to you but it can be requested if you'd like it. They start with a simple drink order of coke, tea, or water… They will also offer coffee at some point during the show. The first course is super yummy, creamy vegetable soup and a cheese biscuit (that rivals Red Lobster biscuits)! Then, next is the main course which is a Cornish game hen, a pork tenderloin, ½ roasted potato and corn on the cob! It is so good you'll "want to slap your neighbor"! The final course is the dessert which is a delicious apple turnover! In my opinion (and most people that I talk to) the food is one of the best parts of the show!
TICKET PRICES AND CAR SEATS
Pricing is a bit expensive for Dixie Stampede but keep in mind your paying for an incredible show, pre-show and an amazing three course meal!!! (And be sure to tip your waiters as a tip is not included in your ticket price). Now, the only thing that is a little difficult and "less than perfect" situation about Dixie Stampede is that they are so busy that every seat counts, so if you have an infant you can not bring in a stroller or a car seat. If you want to bring in a car seat you have to pay for another seat!!! Which is pretty crazy to me, I mean I you have a 3 month old baby you can't really hold it and eat for an hour and a half and when they're that young, every mom knows it's best to just leave them in the carseat if possible when your out. But, that is made rather difficult by putting a $27 price tag on that one chair. The rows are packed full and seating if pretty tight so there is no way that you can hold the carseat in your lap while eating… I asked 🙁 However, kids ages 3 and under can sit on a parents lap and eat off their plate which is generous to offer. Kids ages 4 and up require their own seat and meal. With our family of 5 we purchased 2 adult tickets and 2 kid tickets, we used one of the seats for the carseat while our 3 year old sat on a lap. However, we totally LUCKED OUT because there were a few extra seats in our row, I guess from people that didn't show up. So, there was a large family at the end of the row and they scooted down two seats in between us and them so we were able to have room for our carseat and for our son to sit down! It was so wonderful and I'm fully aware we will probably never get that lucky again :).
There are two sides in the arena… the North and the South, if you really prefer to be on one side you can request this when you make your reservation although it can't be guaranteed. The sides battle it out when the game portion of the show begins. There are six or seven rows in each section. In my opinion the 2nd row is just perfect. While the 1st row is up close and in the action I have heard from one or two people that on the front row you feel like dirt is being tossed up into your food, BUT I certainly didn't feel this way. For me the closer the better 🙂 And the closer you can be to the action the more involved your kids will be in it and it will keep their attention .
In closing this show is awesome with a capital "A" for families with younger kiddos! It is entertaining, keeps their sweet little eyes and ears engaged and fills tummies with wonderful food! I hope to go in 2017 at least one or two times 🙂 It's just that good!
* The opinions expressed in this post are based off my own experiences. I do not guarantee that your experience will be the same… although I hope it is 🙂
THINGS TO NOTE:
**Please let the reservationist know if you need handicap accessible seating, if you have any food or animal allergies, or have trouble with strobing, bright light. If you have a food allergy please be sure and let your waiter know as well!
*They change the show up a bit for Christmas too so if you see it during the regular season you'll enjoy a slightly different show for Christmas!
Ticket Prices for 2017 Season:
Adult Regular Seating: $49.99 + tax
Child Regular Seating: $24.99 + tax
* Call 877-782-6733 for Resercations
Dixie Stampede Branson, Mo
Address: 1525 W 76 Country Blvd, Branson, MO 65616
Phone: (877) 782-6733