Since The Sawmill Entertainment Complex opened in 2017, our family has been wanting to go and check it out! I mean, it's a MOUNTAIN COASTER!!! But, at the same time I always questioned if it was something that our littles could do. We have three kiddos, ages 3, 5 & 7 so I always thought that it was something we needed to wait to do till they were a bit older… I was WRONG!
To say we had an amazing day at the Branson Sawmill would be an understatement, it was EPIC, a day we will never forget. We rode that coaster, rode it again, and rode it some more. It never got old! We all had the All-Day-Pass and that gave us unlimited access to the Mountain Coaster and their newest addition, The Branson Buzzsaw. They are having a special right now for the All-Day-Pass's which was a great deal because after we rode the coaster one time, we all wanted to ride it again. Plus, it's just not much of a price difference to upgrade to the All-Day-Pass. We spent about two hours there and we could have done more but it was getting too cold as it got dark outside.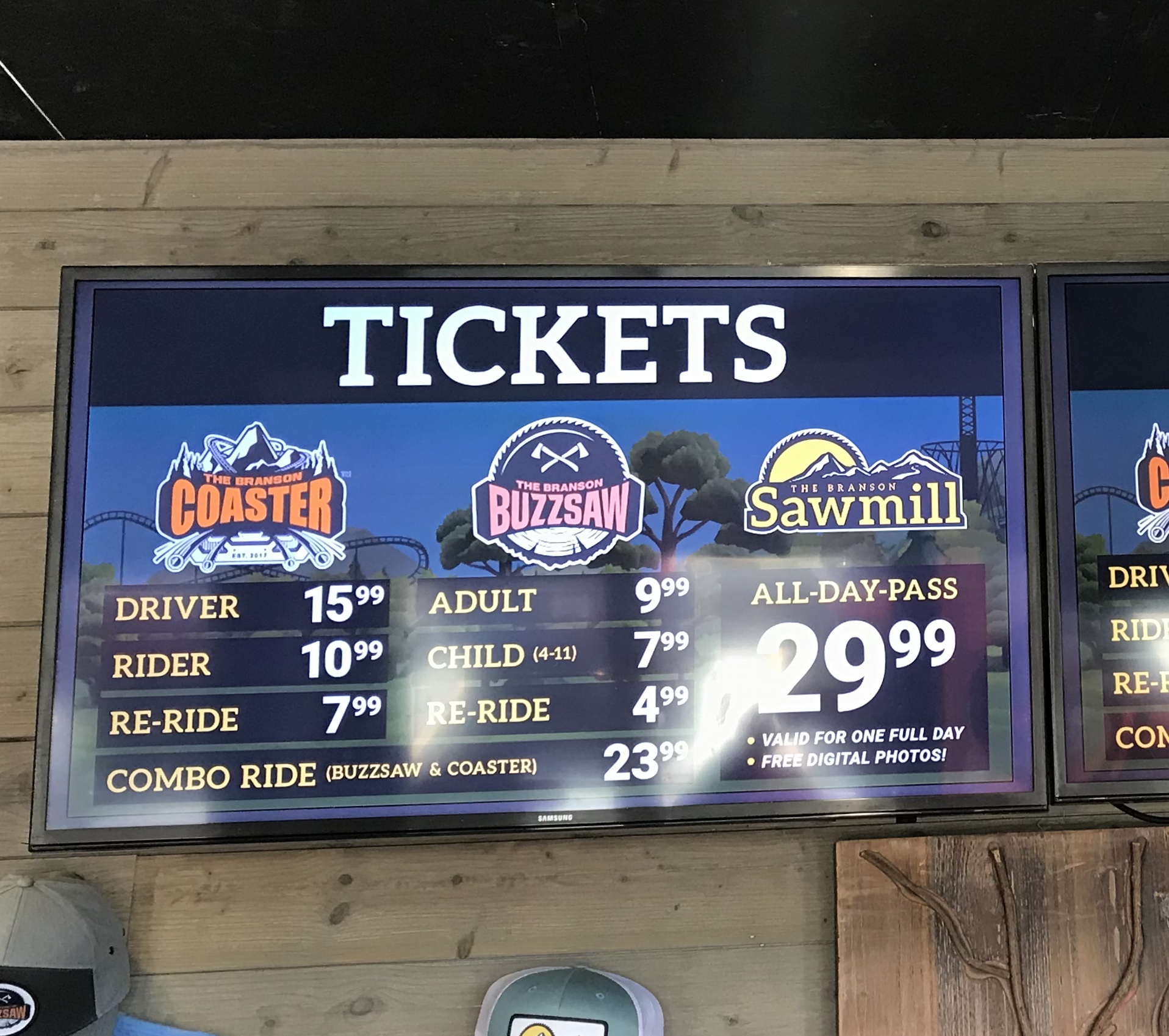 As I said, we have five people in our family and thankfully our oldest son was tall enough to ride by himself. So my husband and I each rode with one of our shorter children, it worked out perfectly. There are height restrictions for riding and driving the mountain coaster. You have to be at least 54in tall to drive the coaster or ride by yourself, then the passenger has to be a minimum of 38in tall and at least 3 years old to ride.
The BRANSON COASTER- It definitely lived up to the hype! This coaster is almost 1 mile long! You control the speed so you can go as fast as you want, with speeds topping out at 25-30mph. They pump current, fun music through the area on speakers and that makes it even more enjoyable. The ride consist approximately 6-8 minutes depending upon how fast you and the riders before you are going. There are two different loops, so you start at the top of the hill then you go down to the bottom, then an automatic system takes your cart (with you in it) up to the top of the mountain where loop #2 starts, then you repeat that process. There is a camera located around the bottom of the first loop and it takes a quick pic of you as you come around that run. Then, when you get off the ride you can view those pictures inside the gift shop. And IF you are doing the All-Day-Pass then, you get free digital copies of the pictures emailed to you… which is pretty cool.
Now onto the BRANSON BUZZSAW, which opened in March of this year… First let me say, this was one of the most incredible Branson experiences I've ever had. This swing takes you up 123ft in the air for approximately five minutes! We rode this at sunset and it was unbelievably beautiful. The Sawmill complex sits right on our Hwy 76 strip, right in the middle of Branson so you could see for miles in all directions, it was really incredible. They play fun music on the ride, had bright lights all throughout it which made for a fun party atmosphere. To ride the Branson Buzzsaw there is a minimum height requirement of 48in and you must be at least four years old. Our little girl was not old enough so my husband stayed with her. Now, I must make a confession…. I am a "recovering helicopter mom" so I have always tried to keep my kids down low to the ground. But, being totally honest here, when we were 123 feet off the ground and I saw my kids flying through the air on a swing I was nervous. And I remained nervous until we came down to the ground. I was thanking the Lord that we had all made it down safely, when I hear those words, "Oh man, let's go again mom"!!! They were both begging to ride it again, so what was I to do? They loved it! So I sucked it up and got on the ride again. And the second time around, I tried control the fear I felt the first time. Was I totally free and enjoying it? Not completely, but I did feel myself relax a little allowing me to take it in and really enjoy the beautiful sights around me. We came back down to the ground and my kids wanted to ride again but I cut them off. "Two times is mom's limit", I told them! They understood and were happy they got to go back to the coaster for more riding. So the Branson Buzzsaw is incredible to experience, I would ride it over and over again by myself. Riding it with my young kiddos did make me nervous due to the height but they loved it, and I don't believe it's something they will forget anytime soon. Having said that, I believe that God gives everyone intuition and especially mothers when our kids are involved, so if you feel that it is not right for your family then take a pass on it.
The atmosphere they have created at the Sawmill is really fun. They have an amazing deck which many places to watch the coaster and the buzzsaw. There are beautiful string lights all over with plenty of places to sit. As I mentioned, they pump fun music through the property that can be heard anywhere. At nightime the place becomes magical as the deck lights and atmosphere lights are lit around the coaster, it's picture perfect. AND THE BATHROOMS!!! They are the fanciest bathrooms in Branson (J/K but they're super nice), I mean they have a mouthwash dispenser, in the bathroom!!! So go check that out 🙂 And of course, there is a baby changing station located in each of the two restrooms on the property.
So overall, we had an amazing time at the Sawmill Entertainment Complex. Our kids are already talking about the next time we get to go! And I'm kind of looking forward to it too 🙂
***Disclosure- The sweet folks over at the Sawmill Entertainment Complex gave our family tickets to come explore their facility and rides in exchange for this review.
So thanks for reading friends! Please leave any questions or comments you may have and I'll try and help however I can! Thanks again and I look forward to seeing YOU in Branson!