Do you ever have a beautiful day with nothing to do, but don't want to spend a lot of money? Well, the Shepherd of the Hills Fish Hatchery is full of fun and totally FREE! That's right you budget keeper! It won't cost you a dime!
The Shepherd of the Hills Fish Hatchery is located at the base of Table Rock Dam just about five miles southeast of Branson. And let me tell you friends, when you stand at the bottom of the dam and look up, it is quite the sight to behold…especially if you are one of the lucky few who are there at the right time to see all the gates open!
Lake Taneycomo is a river that forms from the base of Table Rock Dam, and is only 48 degrees all year long. The always cold temps are not good for swimming but ideal for trout fishing. So the great folks over at the Fish Hatchery have been releasing as much as 300,000-400,000 trout into Lake Taneycomo each year since 1958. That's a lot of trout people.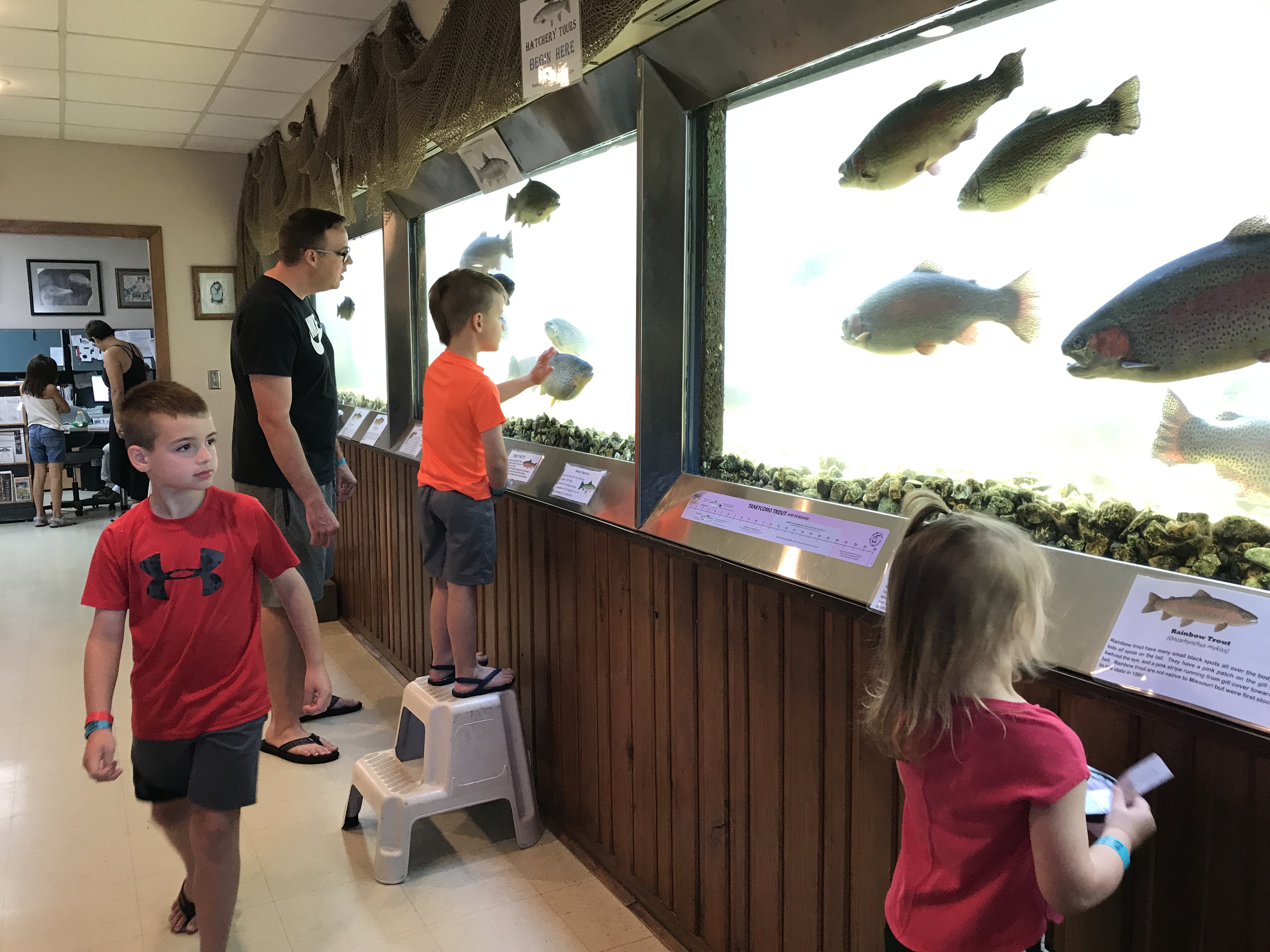 Now, why would your family like it? It's a really fun experience! When you arrive you will go through the Nature Center which is full of cool, live spiders, reptiles and fish. As soon as you open the front door there are brown recluses and black widow spiders waiting to greet you at the front desk! When we went, there was a two-headed snake!!! I thought for sure it was fake because they are really rare, but they had a living breathing snake with TWO HEADS!!! There is a conservation worker on site who can answer all the questions you would have, they are so full of knowledge. There is an auditorium which plays a quick 15 minute video about the history of the hatchery and also shows the process that the fish go through to be created, grown and eventually released into the lake. It's fun to watch and since it's short it kept our kiddos attention.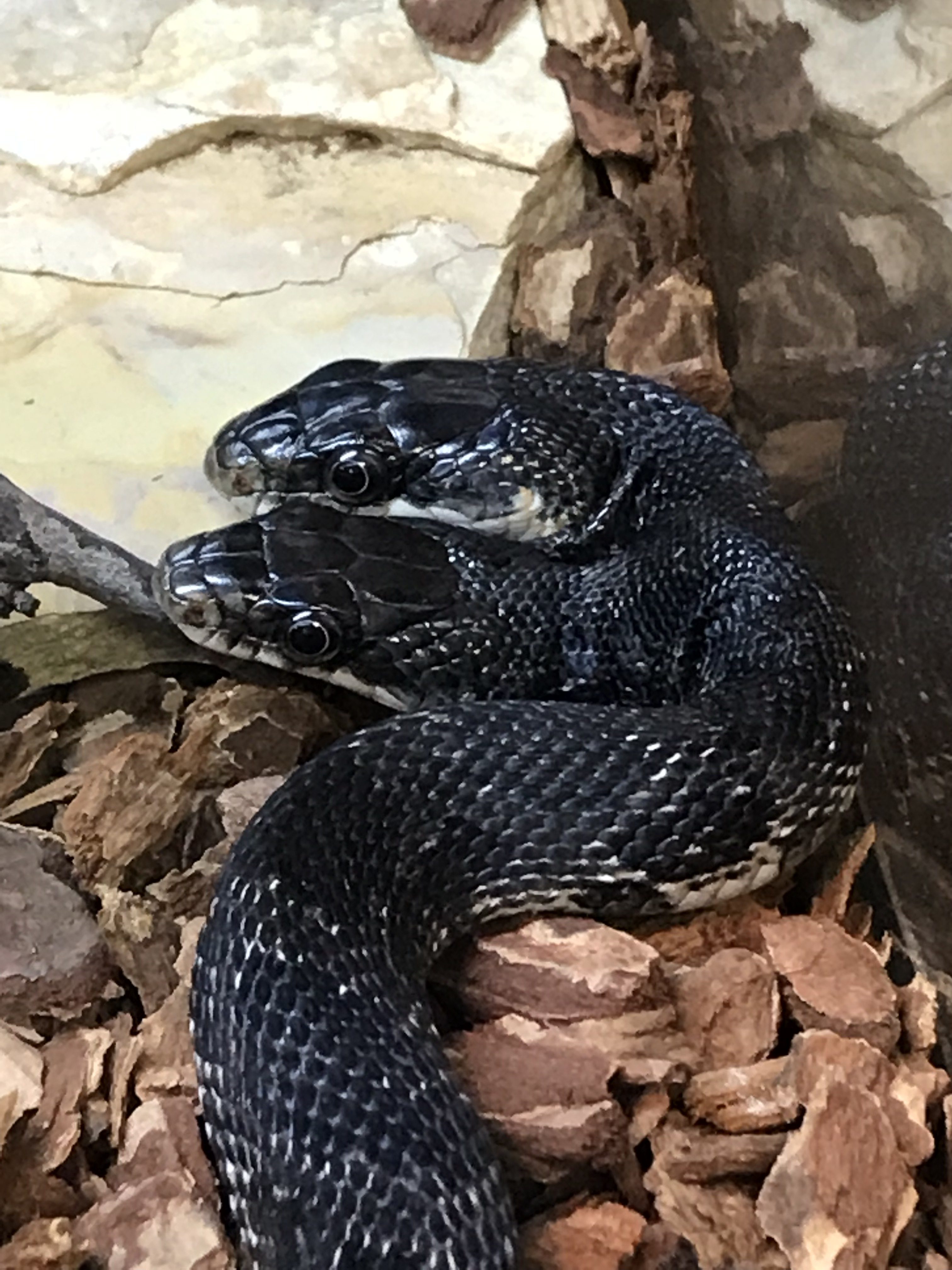 Then, you walk outside and see the fish in several different channels that are separated by age and size. There is a fish food machine outside so you can pay .$25 to get a handful of food to feed the fish. This was a lot of fun because the fish go crazy over it, infact they follow shadows because they know where a shadow is- there is probably a person that will feed them. 🙂 Luckily, a woman who was leaving had a plastic cup she was done with and gave it to us, which worked out so great. That's a great tip! Bring a throwaway cup for fish food, otherwise it just goes in your hand and you can't hold a lot.
You are able to walk all around the hatchery and the people who work there are happy to talk with you about the process the fish go through. It's really impressive! There are also walking/ hiking trails located around the hatchery and I would imagine a great chance of seeing some local wildlife.
Now, I am a mom with three small children so while I am sure to tell you all the wonderful things about the Fish Hatchery I also must mention things to be aware of while you are visiting with your family. Outside most of the fish channels are covered with a net, which is a relief for most mom's because we don't have to worry that our children will fall in… however, at the end of each channel there is an open water basin where the water is filtered and the waste goes… This is uncovered and has no railing or fence around it so please watch your children. I have never seen a child fall into one of the channels but theoretically it would be possible so just keep your eyes on your kids and hold their hands. My oldest son, who is seven, was walking and tripped and almost stumbled into one of these!!! Thankfully he regained his balance and didn't fall in!!! So just watch your littles 🙂
The Fish Hatchery is open year round but closed all holidays and due to weather may be closed to visitors. The hours of operation are typically 9am-5pm. Their Phone number is 417-334-4865 so give them a call if you plan to make a trip to visit just to verify they are open to the public and what hours they are open.
PRO MOM TIPS!
-Sit up front in the auditorium to help keep your kiddos attention during the informative video… because there will be less distractions
-Take a throwaway cup for fish food
-Watch your kiddos while outside
Before you leave the fish hatchery be sure to take family picture! It's such a beautiful setting with the dam right behind you. It really is picture perfect, so don't miss out on capturing the moment with your family!
Thanks for reading! Please be sure to comment below with any questions you may have and I'll help in any way I can!
I'll see you in Branson!