On the Edge of our Seats at Reza!
Have you heard the name Reza before? If it sounds familiar you may have seen him on an episode of "Duck Dynasty" or Penn and Teller's TV show "Fool Us". After seeing his Branson show, Reza is a name now mentioned daily in our household 🙂 Our boys particularly haven't stopped talking about him or trying to do magic. Literally it seems like most days I spend 1/10 of my day watching failed magic tricks, but I love it!
First off, I'd like to say that I was blown away by the crowd gathered to see Reza… we walked into an entirely full theatre! And it seems young families, baby-boomers and older folks loved this show. Reza has a limited show schedule in Branson as he tours throughout the year. So, if he is in Branson while you're visiting you'll definitely want to check this show out. Your kids will love it and if they're anything like my kiddos they will become little aspiring magicians.
Now for the show! Keep in mind my kids ages 2, 5 & 7. We had absolutely NO problem keeping them in their seats and mesmerized during the two hour production. From the moment Ziggy the "Artist of Oddities" steps on stage for a quick pre-show my kids were in it! Then Reza is announced and the show begins with a bang. We couldn't look away. It is two hours of non-stop amazement with very little downtime. Reza interacts a lot with the audience telling jokes and involving the whole crowd, which is a pretty unique for Branson. He is very funny and super engaging. Reza is candid with the audience about how his love for magic started at a young age and how his parents would bring him to Branson to watch magic shows, I thought that was pretty cool. He does small (but impressive) tricks as well as huge tricks such as making a helicopter appear in a unique way. He has a great group of performers with him… together they make an incredible team and present an amazing production. When the show was over it was clear to me why the crowd was so big. It is the best magic show in Branson I've seen in a long time.
*Note for parents* Magic shows are typically known for scantily clad magician's assistants and this show follows suit with that. While they weren't as scantily clad as other's I've seen in Branson or Las Vegas there was definitely some visible cleavage, some mid-drift showing, and quite a bit of leather but overall it wasn't too bad or offensive. There were a few moments where the dialogue was a bit mature for our young kids, but because of their young ages it went by under the radar. I understand Reza has to make the show appeal to people of all ages so that is just part of it. Overall, it was pretty family friendly.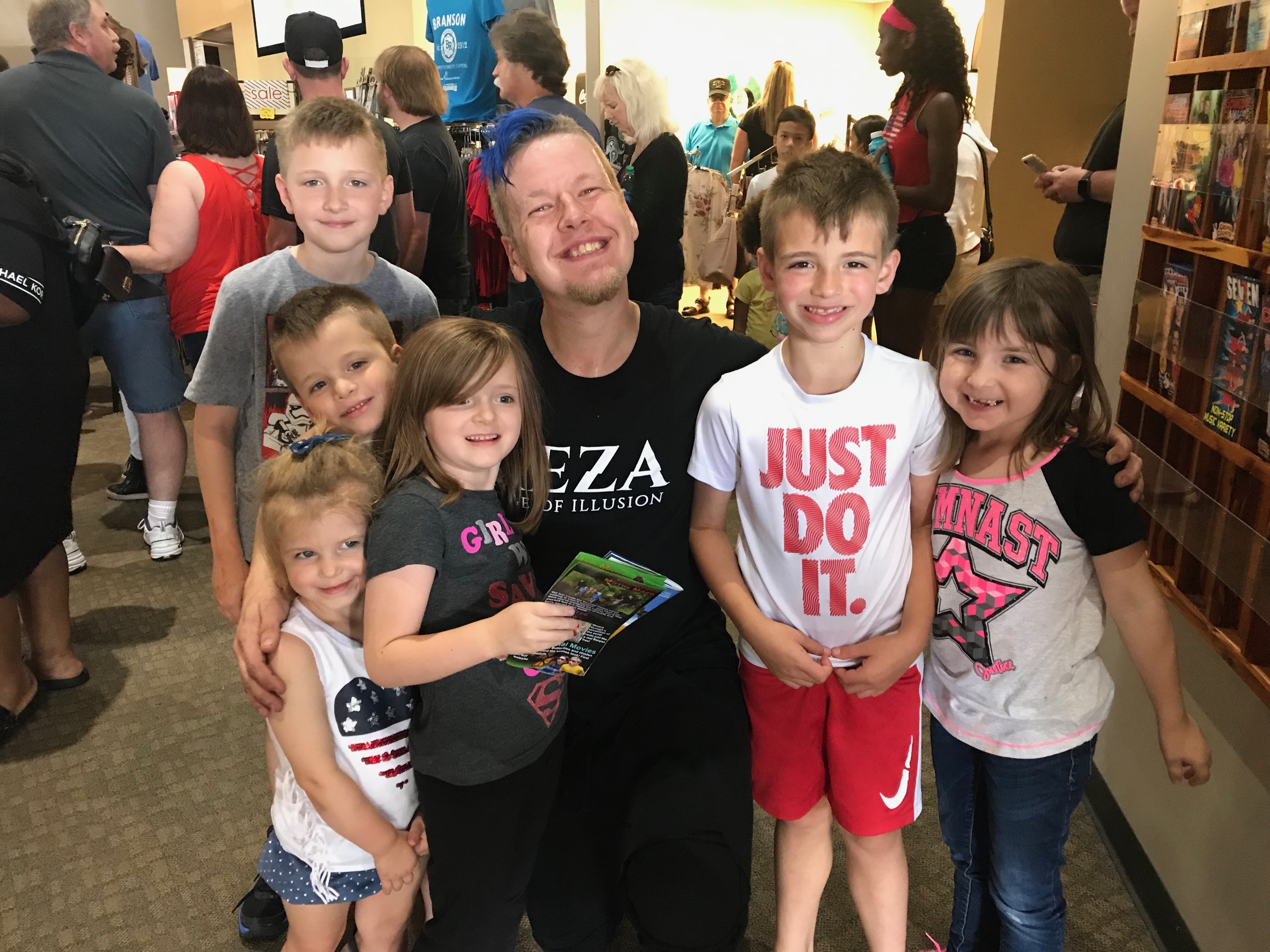 Pictured above is Ziggy, not Reza. Our crew loved ZIGGY!!!
During intermission you can purchase magic tricks and magic kits. These were a huge hit for our kids. While we only purchased one kit and the magic rings there was a lot of material to go around and for our three kiddos to split. The prices weren't too high and the quality was good so go check out the merchandise stand during intermission if you get a chance.
For the 2019 season Reza is at the Branson Famous Theatre in Branson just off Hwy 165.
Some helpful hints- As always, set the kids up for success by having everyone go to the restroom right before the show starts and at intermission so you don't miss a minute of this show. Also, try and think ahead for snacks or treats and drinks. They have good popcorn and a pretty well stocked concession stand. So arrive about 30 minutes ahead of showtime to make sure everyone has time to go to the bathroom and hit the concession stand before the show starts…
If you have any questions or comments please feel free to leave them here! I hope you enjoyed this review and give this show a shot while you're in town.
Thanks friends and I'll see you in Branson!